Say the words "video game" and your kids are bound to stop and listen. The local owners of a new Code Ninjas, a learning center that debuts October 21 at 1250 Scenic Hwy., Ste. 1716, know that video games aren't only fun, but educational. Code Ninjas will serve the local area by teaching children computer coding and problem-solving skills while having fun building video games.
To celebrate the new center, Code Ninjas Snellville will host a grand opening event on November 9. Attendees can enjoy a variety of STEM games and activities, raffles, prizes, and refreshments, as well as overview tours of the facility.
The Snellville location is owned and operated by local entrepreneurs and married couple Oliver and Vivien Rayam. Oliver, a 10-year U.S. Army veteran, began his IT career with the army and has now been in the industry for over 30 years. His background in computer engineering and computer science combined with Vivien's 15 years of experience in the non-profit housing arena made them interested in opening their own business. After being introduced to Code Ninjas, the Rayams knew this was the perfect opportunity to combine Oliver's interest in IT with Vivien's interest in entrepreneurship. This is their first location, with plans to open a second in the area.
"At its most basic level, Code Ninjas is preparing kids as young as seven for a future encompassed by technology," said Oliver. "It gives me pride to know that my location will give kids an opportunity that I and many of my colleagues wished we had when we were kids."
Snellville children ages 7-14 can look forward to visiting the new Code Ninjas center to learn how to code in a fun, safe, and social learning environment where gaming is celebrated, and STEM is cool. Everything about Code Ninjas is built around fun, which keeps kids coming back. But the center also provides the results that parents are looking for, as their children gain coding and problem-solving skills they'll need for the jobs of the future.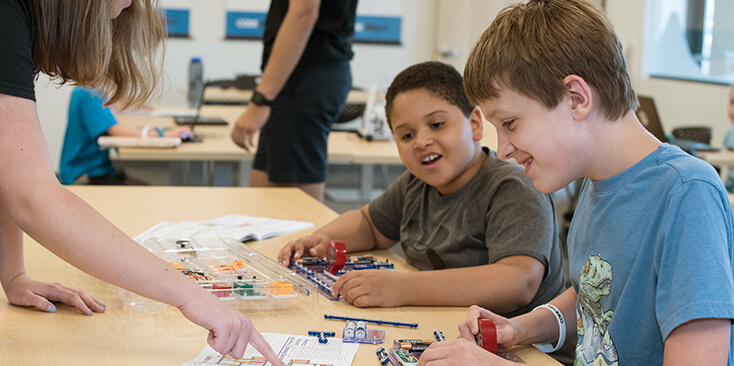 "We love the curriculum Code Ninjas offers and how it connects kids with STEM," said Vivien. "Coding plays a large role in the 21st century and it will only increase moving forward. By providing kids with the opportunity to understand and learn how to code, we here at Code Ninjas get take part in preparing the next generation for the needed skills to accompany that."
Code Ninjas accomplishes this with a robust, game-based curriculum made up of nine belts, just like martial arts. The curriculum is self-paced, but not self-taught; kids get immediate help and encouragement from Code Senseis and fellow students as they advance from white to black belt. The program keeps kids motivated with little wins along the way, and "Belt-Up" celebrations where they receive color-coded wristbands to mark their graduation to the next level. By the time a child finishes the program, they will publish an app in an app store.
Code Ninjas offers a variety of opportunities for children to get involved, including a flexible weeknight drop-in program, camps and Parents Night Out events on weekends.
Code Ninjas founder and CEO David Graham is a professional software developer who previously owned a successful chain of coding camps for adults. After numerous inquiries from parents, Graham realized there was an unmet demand to teach children coding skills. He launched the Code Ninjas brand in 2016.
For more information about the Snellville Code Ninjas location, please contact the center at 404-721-3945, via email at snellvillega@codeninjas.com or visit https://www.codeninjas.com/locations/ga-snellville.