Since some children are not going back to school quite yet, that means more time to try to solve the dilemma of what to serve your kids for lunch. If you're like me, you want something that the kids can make "mostly" on their own. I have a 10-, 7- and 4-year-old at home, so Kraft Easy Mac and Jell-O cups are the perfect solution. My older two kids went to a cooking summer camp, so reading and following directions comes second nature to them. They are able to completely make the Kraft Easy Mac from start to finish themselves. My 4-year-old still enjoyed stirring and eating her Kraft Easy Mac and Cheese. The kids were so proud of having made their own lunch without any help from me. Oh, the freedom of having one less thing to do on my 'to-do' list while I try to juggle working from home while making sure the kids are doing their digital learning.
You can easily find both Kraft Easy Mac and Jell-O products at your local Walmart. You can choose either Grocery Pickup, or face the mobs and go into the store to find your products.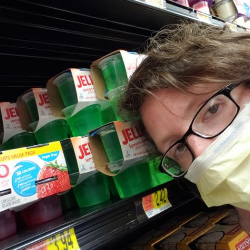 I found the Jell-O products in the dairy area, by the sour creams, and the Kraft Easy Mac in the aisle with the pasta. Whether you're doing grocery pickup or going into the store, you're sure to find lunch options that are quick and easy enough for the kids to prepare themselves with Kraft Easy Mac and Jell-O products.
I was compensated for this review, however all of the opinions are my own.