The dimming of the lights, a bucket of popcorn on your lap, and the hush of the theater brings out the nostalgia of seeing a movie on the big screen. This summer, my kids (ages 8 and 9) are creating core childhood memories with what we're dubbing, "the summer of the movies."
The lineup of family-friendly films headed to the box office this season has got us itching to see them all, but one that really stands out with its star-studded cast and uplifting messages of acceptance and bravery is a film that both kids and adults can enjoy: Paws of Fury: The Legend of Hank.
---
Disclosure: The author received compensation for writing this article. All thoughts and opinions expressed are their own.
---
Join us in seeing Paws of Fury: The Legend of Hank in theaters on July 15th!
My kids and I laughed and laughed as we watched the movie trailer together. It's a classic underdog-turned-top dog story with unrivaled humor from the best comedians in the biz: Michael Cera, Ricky Gervais, Mel Brooks, George Takei, Aasif Mandvi, Gabriel Iglesias, Djimon Hounsou, Michelle Yeoh, Kylie Kuioka, Cathy Shim and Samuel L. Jackson.
---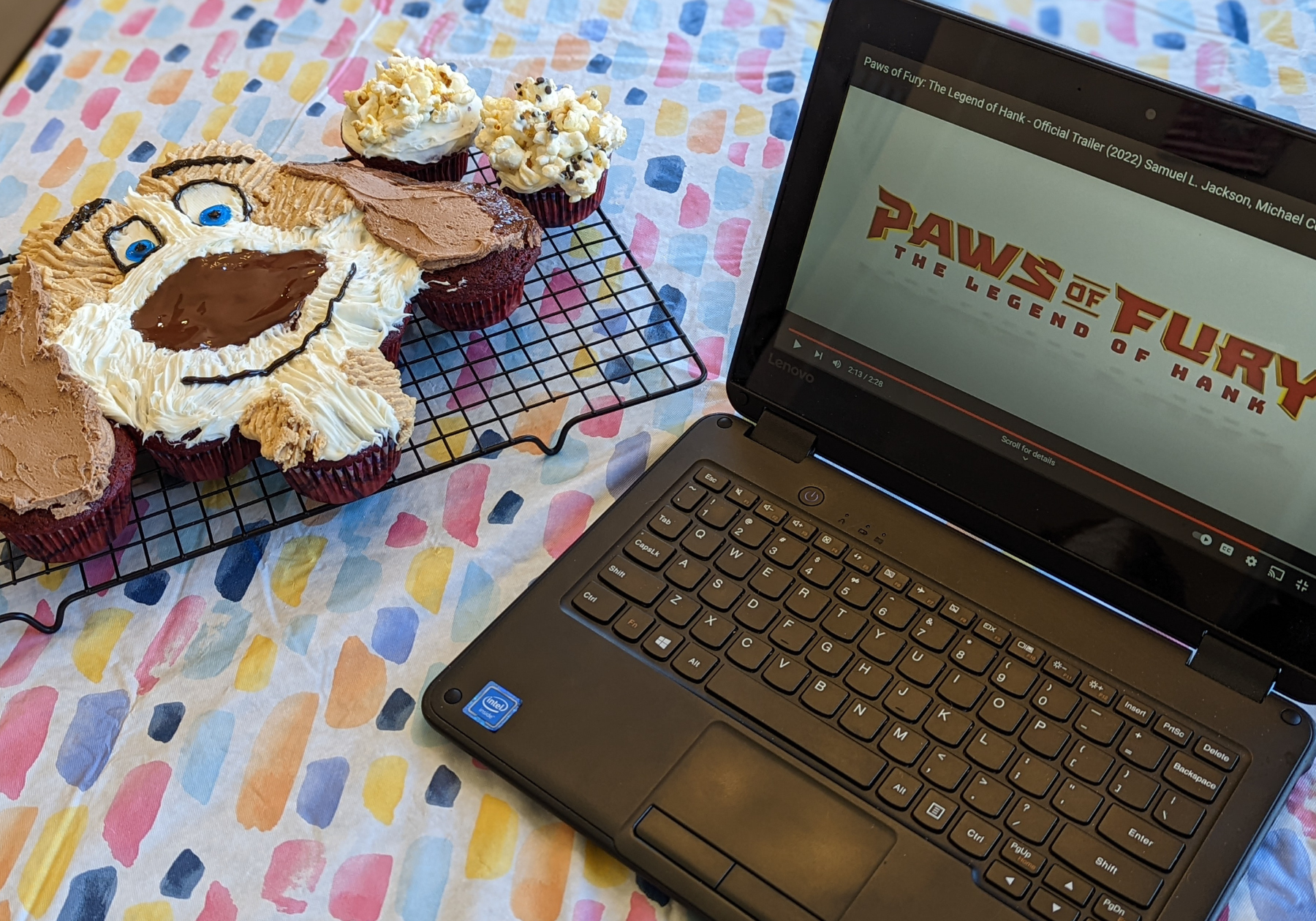 Our favorite part of any new movie is getting to know the characters, so we made a fun pull-apart cupcake treat featuring the movie's lead character, Hank.
Ingredients:
Cupcakes (10)
Frosting
Peanut Butter or Caramel chips
Chocolate chips or chocolate bar
Blue and black gel icing

Directions:
Arrange your cupcakes in the general shape of Hank's face. See the photo above for how we arranged ours.
Mix the peanut butter, caramel, and chocolate chips with the frosting to create different color tones to use for Hank's fur.
Spread your frosting across the cupcakes using a fork to give the illusion of fur.
Use gel icing to add details like the eyes, eyebrows, and smile.
Share your creation with a crowd!

Want to make some Paws of Fury movie memories at home? Try our pull-apart cupcakes and these themed activities too :
---